FLUKE BY ADRIANA LOCKE
Genre/Tropes: Fake ex-husband / Small Town Romance / Friends to Lovers / One Bed / He Falls First
Fluke, an all-new small-town romance, by USA Today bestselling author Adriana Locke is NOW LIVE!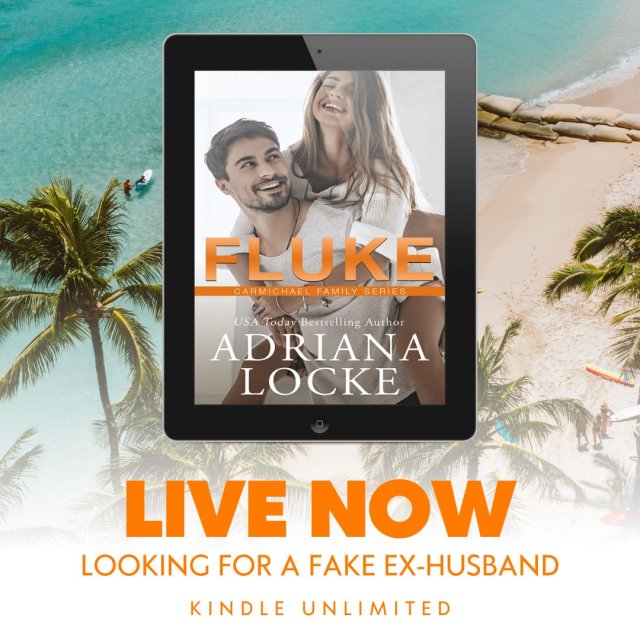 Blurb:
SEEKING AN EX-HUSBAND
I need a fake ex-husband.
Let me explain …
I may have let it slip to my new co-workers that I have an ex-husband. Now they're fascinated with the details, specifically with him.
Why wouldn't they be? He's gorgeous, has exceptional skills in the bedroom, and is determined to win me back.
But there's a problem. He doesn't exist.
The bigger problem? I have to produce him to save my job.
This is where you come in.
I'm seeking someone to play a smitten ex-husband for two weeks. You'll need to remember our love story—details matter when it comes to romance! Please be prepared to travel in-state at a moment's notice. We may be in close proximity and sharing a bed may be required.
One more thing—kisses are required for optics as necessary.
If this sounds interesting or, at the very least, entertaining, let me know.
Signed,
Your Future Ex-Wife
Buckle up for a steamy adventure between friends-turned-lovers in this new "fresh twist on a favorite trope!" take on fake dating, close proximity, and romance in the workplace from USA Today Bestselling author Adriana Locke.
Jess might be my fave Carmichael man yet!
Fluke follows Jess and Pippa. Jess has been in love with Pippa for 15 years and trying to get her to notice him, while she's oblivious and thinks they're just friends.
Pippa ends up in a bit of a predicament when she blurts out at work to her boss and coworkers that she has an ex husband that is trying to win her back… which isn't true in the slightest as she's never been married! Jess is quick to offer himself up as her ex husband to spend more time with her to try and win her over…by not faking a thing.
This book is full of swoon worthy moments, hilarious banter (the Carmichael brothers love their pranks!) and the spice is on point. Adriana has written a fun new take on fake dating that you'll definitely love if you love the he falls first trope.
I really loved Jess and Pippa together and can't wait to see what happens next!
*ARC kindly provided in exchange for an honest review*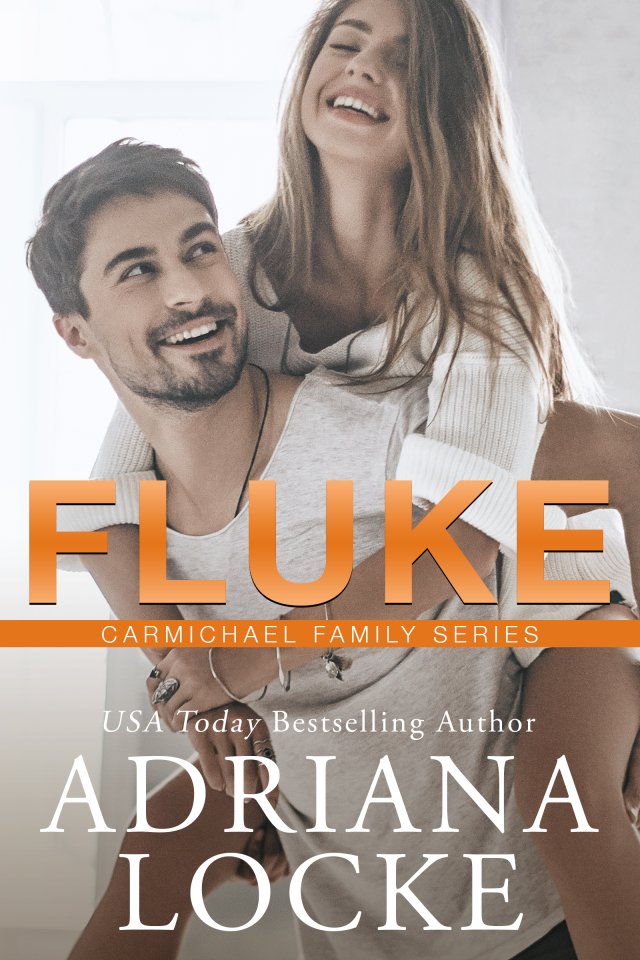 About the Author:
USA Today Bestselling author, Adriana Locke, writes contemporary romances about the two things she knows best—big families and small towns. Her stories are about ordinary people finding extraordinary love with the perfect combination of heart, heat, and humor.
She loves connecting with readers, fall weather, football, reading alpha heroes, everything pumpkin, and pretending to garden.
Hailing from a tiny town in the Midwest, Adriana spends her free time with her high school sweetheart (who she married over twenty-five years ago) and their four sons (who truly are her best work). Her kitchen may be a perpetual disaster, and if all else fails, there is always pizza.
Connect w/Adriana: